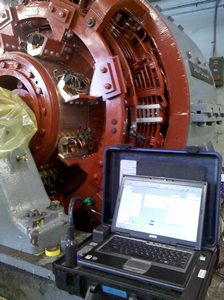 Maintenance Technologies International, LLC (MTI) is focused on using all the major Predictive Maintenance (PdM) Technologies to provide clients with a one-stop solution for their PDM/Reliability Engineering needs.
MTI reliability engineers use the latest Predictive Maintenance (PdM) Technologies and "best of breed" diagnostic tools and software to ensure that our customers are getting the most advanced and accurate assessment of equipment reliability possible.
Our highly-trained staff is dedicated to meeting our client's machine reliability testing and correction needs and providing world-class predictive maintenance services throughout New England and beyond. MTI's services help our customers realize millions of dollars of cost avoidance savings per year. MTI's Predictive Maintenance Services include:

Headquartered in Milford, Connecticut, Maintenance Technologies International, LLC is a totally independent 3rd party predictive maintenance / reliability engineering service provider. Formed in 1988, MTI's 26 years of experience in Predictive Maintenance and Equipment Reliability Engineering Services along with the numerous array of technologies offered, establishes MTI as New England's premier PdM company.