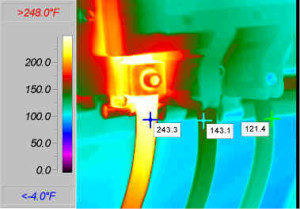 MTI utilizes several Flir P640 and T640 high resolution cameras and associated analysis and reporting software to provide clients with a comprehensive Infrared Thermographic (IR) analysis of electrical distribution systems, boilers, HRSGs, roofs, steam and hot water systems, buildings, ovens, underground piping systems, bearings, etc. Problems can be found before they cause a major issues and an IR scan of buildings can find heat or air losses which when repaired results in significant savings on energy and heating costs.
Infrared Thermography can be used for:
Electrical Circuit Inspections
Motors Windings and Bearings
Transformers/Switchgear
Motor Control Centers (MCCs)
Building Heat Loss Inspections
Roof Moisture/Leakage Surveys
Process Control/Quality Assurance
Locate Fugitive Gas Emission
Mechanical Inspections Of Bearings, Steam Traps, Boilers, Refractory, Etc.

Infrared Thermography